Data Transmitter - Tour dé France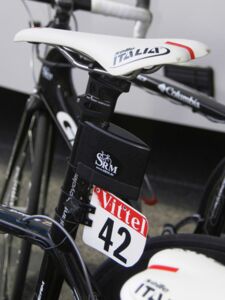 Two months before the 2004 Tour dé France, T-Systems & T-Mobile was desperately looking for a partner to implement the transfer of ergometer data (heart rate, power cadence, etc.) of individual drivers to a server.

ConiuGo tackled the problem and implemented a solution within 2 months. For the first time in 2004, the first test ran on the Tour dé France with real "online" data, which were transferred to the ARD server.

Meanwhile, the procedure has become a standard. Thus, during rides in 2005, data from various drivers were regularly displayed (see picture gallery).

At the same time, these data could also be viewed online on the Internet. Each driver was reserved a separate window with its special values.
The GSM data transmitter from ConiuGo was used, which was specially developed for this application. The device has a dual-band GSM core which sends incoming data on the interface via GPRS to a fixed IP address (e.g., ARD server). Encryption as well as various routines for data verification and power saving are used to ensure safety and running time while driving. Equipped with a miniature antenna, this device is mounted under the saddle of the driver to record and send his data. Weight is 100 grams, 97.6 grams were achieved, which does not burden the driver.