GO Central SMS telecontrol device - Series
blueline
The GO-Series is perfect for applications which need a flexible and expandable solution. The central unit is expandable with up to 15 moduls and is able to handle individual functions.
Even the controlling of bigger facilities is possible with additional digital and analog acesses and exits.
Individual adaptions of the expansion modules for customer applications is possible.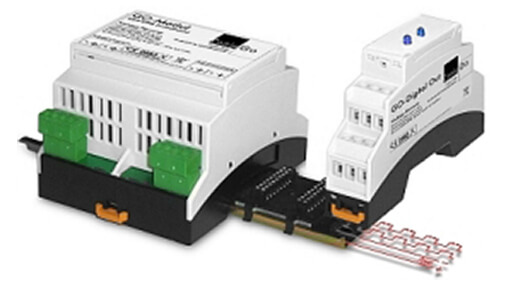 Article name
Characteristics
Article number
Go central unit


blueline

GSM Module Go central unit


The Go central unit is the sending and receiving unit
IP 34 case for top hat rail
Up to 10 I/O modules can be attached

700300101
Go Analog In 0-1V


blueline

Module for extension with:

4 analog inputs (input voltage 0-1V)
IP34 case for top hat rail

700300132
Go Analog In 0-20mA


blueline

Module for extension with:

4 analog inputs (input circuit 0-20mA)
IP34 case for top hat rail

700300133
Go Analog In PT 1000


blueline

Module for extension with:

4 analog inputs monitor temperature sensors PT1000
IP34 case for top hat rail

700300135
Go Digital In


blueline

Module for extension with:

8 digital inputs (potential free switched)
IP34 case for top hat rail

700300111
Go Digital In inverted


blueline

Module for extension with:

8 digital inputs (potential free switched)
IP34 case for top hat rail

700300112
Go Digital In

optically decoupled




blueline

Module for extension with:

4

digital inputs optically decoupled

IP34 case for top hat rail

700300134
Go Digital Out 24V


blueline

Module for extension with:

4 digitale outputs (max. 24V / 1A AC/DC)
IP34 case for top hat rail
R/C

Contact protection combination (accessory) is recommended

700300121
Go Digital Out 230V


blueline

Module for extension with:

2 digitale outputs (max. 230V / 6A AC)
IP34 case for top hat rail
R/C

Contact protection combination (accessory) is recommended

700300122
Accessories
article name
characteristics
article number
Go cable USB

USB cable for parameterisation of the Go device

700300151
Go cable RS232

RS232 DSUB 9 cable for parameterisation of the Go device

700300150
Rod antenna with tilt joint

Indoor use
Tilt joint adjustable
Frequency 790 ~ 870MHz, 1710 ~ 1880 MHz, 2500 ~ 2690 MHz

300303312S
Round Antenna PUK

Indoor and outdoor use
Quadband antenna 850, 900,1800, 1900 MHz
cable lenght 3 m

300303310S
Rod Antenna with Magnetic base

Indoor use
Frequency 824-894 MHz / 1710-1990 Mhz, 880-960 MHz / 1710-1990 MHz, 1920-2170 MHz
cable lenght 3 m

300303316S
Glass attached Antenna

Indoor use
Dualband antenna 900, 1800 MHz
cable lenght 1,5 m

300303304S
LTE

directional antenna

Indoor and outdoor use
Frequency LTE 694-960 MHz
cable lengh 5 m

300303321S/5
Main Power Supply 12V

For device with 12 V DC/1500 mA supply voltage

305307214
Power supply for top-hat rail mounting

Input voltage 230 V DC
Output voltage 12 V DC / 20 VA

700100302

Emergency power battery

Lead-acid battery for the supply of electricity in case of power failure

700100303
Float

Contact

for detection of penetrating water

for signaling devices with digital inputs

over 24 V supply

700100609
Motion detector

for detecting unauthorized entry to the area to be monitored
for all signaling devices with digital inputs
9-16 V DC supply voltage

700100610
Temperature sensors
Humidity Sensor
Differential Pressure Sensor

can be connected to all signaling devices with analog inputs
Temperature sensors -40 bis +50 °C, 4-10 V DC supply voltage and 0 bis +100 °C, 4-20 V DC supply voltage
Humidity sensor for recording moisture values on site, 5 V DC supply voltage
Differential Pressure Sensor: measuring range 0-100 kPa as 0,5-4,5 V DC, measurement accuracy 2%, supply voltage 5 V DC

700100606
700100607
700100608
700100603
R/C Contact protection combination

Protection of the switching contacts against contact erosion

700100618