LTE GSM Industry-Modems
(4G, CAT 4, CAT 1, CAT M)
LTE GSM Modems become more and more important for the industry and are supporting M2M communication for telematry and telematics. ConiuGo Modems can be used worldwide, because of the quad band technologie. The LTE GSM Modem are able to exchange TCP/IP data stacks, for remote control to facilities and machines, to generate reports via SMS and to setup a point to point connection (CSD dial-up).
The devices can be ordered in several versions.
Standardised industry interfaces like LAN/Ethernet, USB or RS232 are available for our LTE GSM Modules. Also the common frequency ranges 850 MHz, 900 MHz, 1800 MHz, 1900 MHz, 2100 MHz and 2600 MHz are ready for use.
The devices are offered in two different housings:
Standard housing, or top-hat rail mounting.
Applications:
Data logging
Remote control for facilities and machines
M2M data exchange
Error messaging and plant monitoring
Remote selection
Functionality:
Data transfer by TCP / IP
Dispatch and receiving of SMS
Point to point connection (CSD dial-up)
Replaces analogue and ISDN plug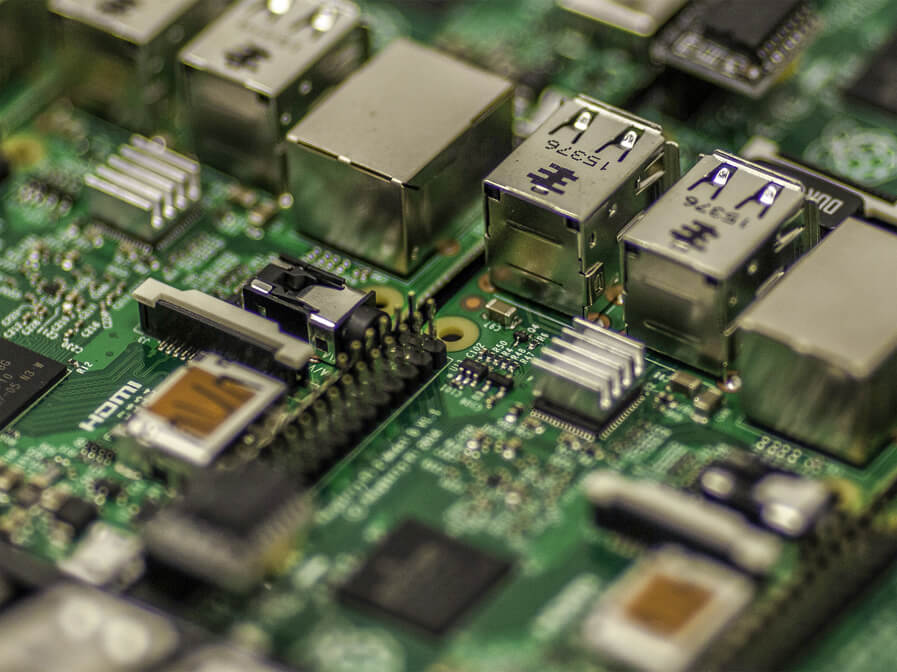 ISDN discontinuation and analog modems
You have previously used analog modems or ISDN modems and would like to carry out your data transmission with GSM modems? No problem, here you will find all the necessary information as a PDF file.
Modem or router?
The answer depends on the circumstances in which the device is operated. Here you will find all the necessary informations.
LTE Modem CAT 4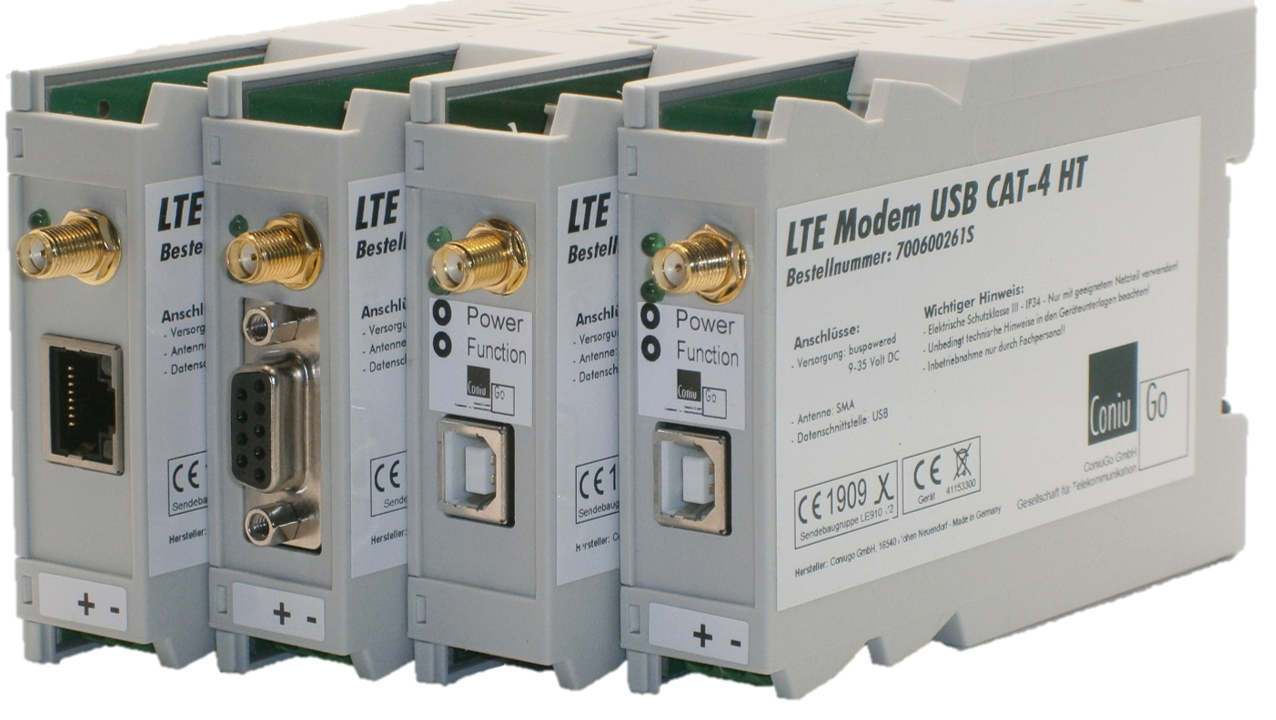 LAN, USB, USB dualpowered RS232 interface
Data rate 50 Mbps Up, 100 Mbps Down (LTE) 5.76 Mbps Up, 42.0 Mbps Down (HSPA+)
Top-hat rail housing
Power supply 9-35 V DC (LAN, RS232), BUS powered (USB)
Dimensions 75 x 22 x 112 mm (L x W x H) / 92 g
Antenna plug SMA
LTE Modem CAT 1
LAN, USB, USB dualpowered, RS232interface
Data rate 5 Mbps Up, 10 Mbps Down (LTE CAT 1)
Top-hat rail housing
Power supply 9-35 V DC (LAN, RS232), BUS powered (USB)
Dimensions 75 x 22 x 112 mm (L x W x H) / 92 g
Antenna plug SMA
LTE Modem CAT M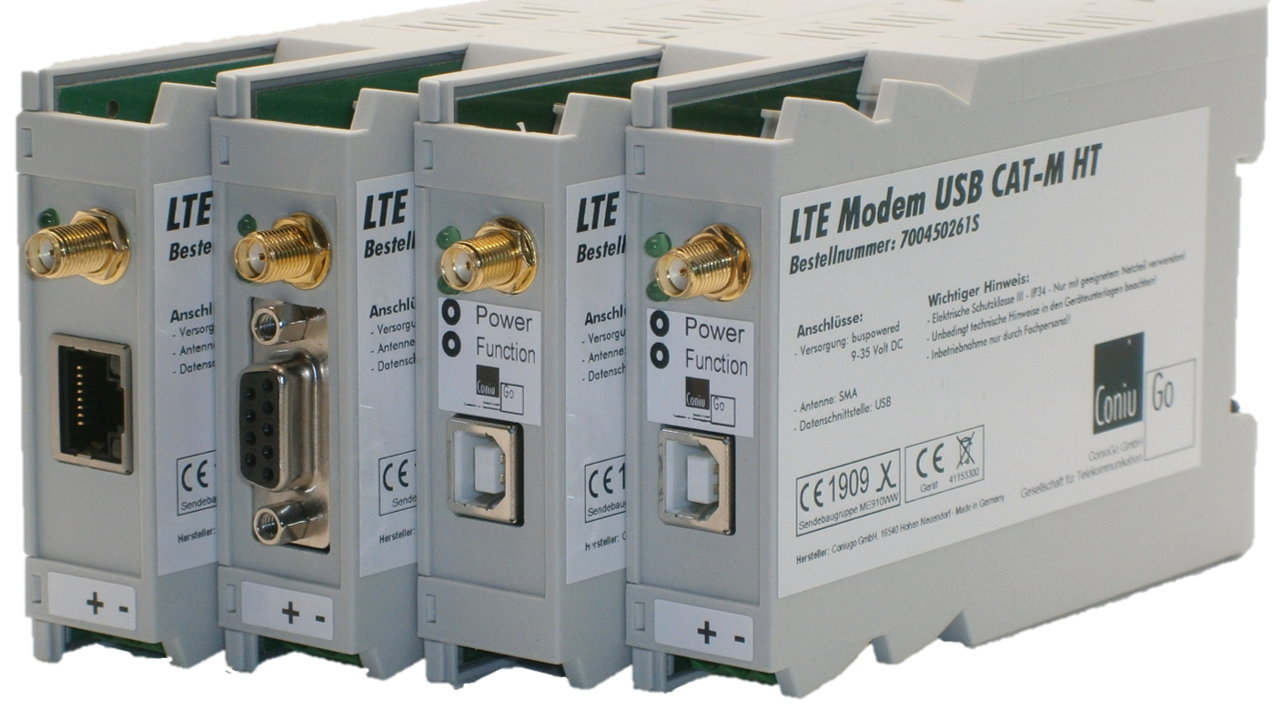 LAN, USB, USB dualpowered, RS232 interface
Data rate 300 kbit/s Up, 375 kbit/s Down (LTE CAT M)
Top-hat rail housing
Power supply 9-35 V DC (LAN, RS232), BUS powered (USB)
Dimensions 75 x 22 x 112 mm (L x W x H) / 92 g
Antenna plug SMA
LTE Modem CAT 4
LAN, USB, USB dualpowered, RS232 interface
Data rate 50 Mbps Up, 100 Mbps Down (LTE) 5.76 Mbps Up, 42.0 Mbps Down (HSPA+)
Standard housing
Power supply 9-35 V DC (LAN, RS232), BUS powered (USB)
Dimensions 62 x 59 x 20 mm (L x W x H) / 49 g
Antenna plug SMA
LTE Modem CAT 1
LAN, USB, USB dualpowered, RS232 interface
Data rate max. uplink 5 Mbps, downlink 10 Mbps (LTE CAT 1)
Standard housing
Power supply 9-35 V DC (LAN, RS232), BUS powered (USB)
Dimensions 62 x 59 x 20 mm (L x W x H) / 49 g
Antenna plug SMA
LTE Modem CAT M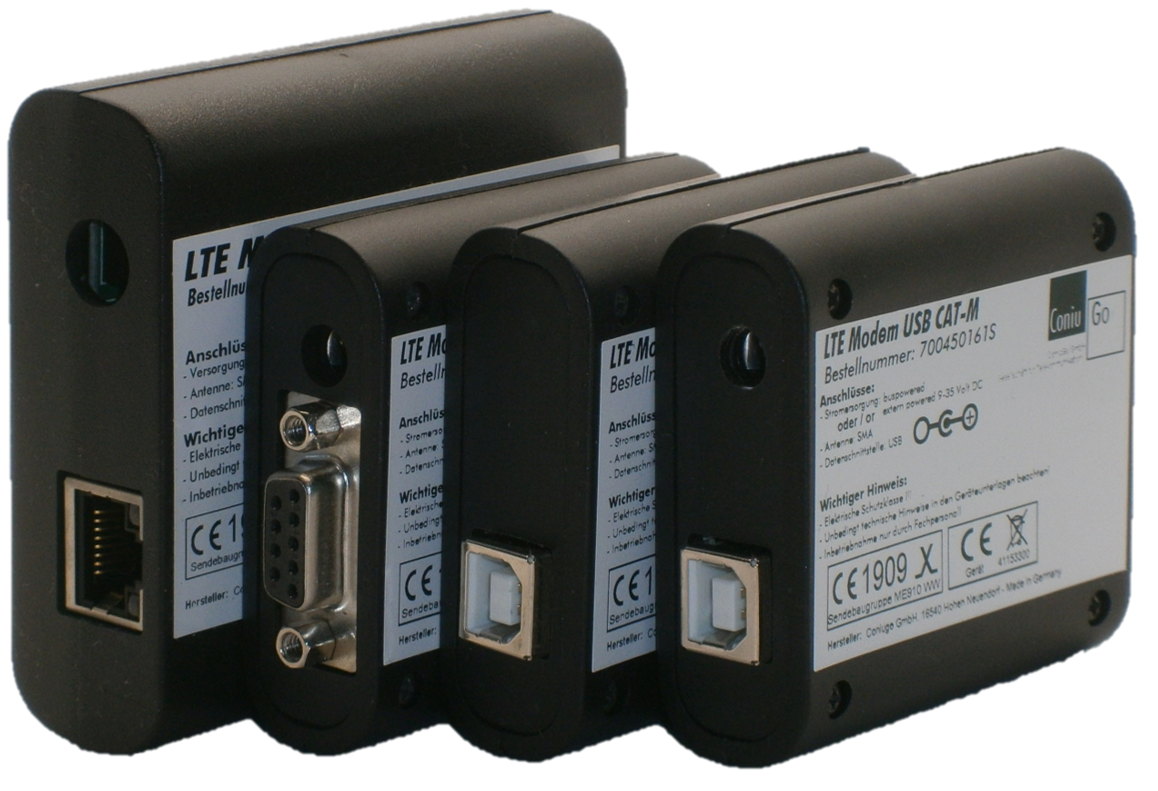 LAN, USB, USB dualpowered, RS232 interface
Data rate max. uplink 300 kbit/s, downlink 375 kbit/s (LTE CAT M)
Standard housing
Power supply 9-35 V DC (LAN, RS232), BUS powered (USB)
Dimensions 62 x 59 x 20 mm (L x W x H) / 49 g
Antenna plug SMA
LTE Dualport Modem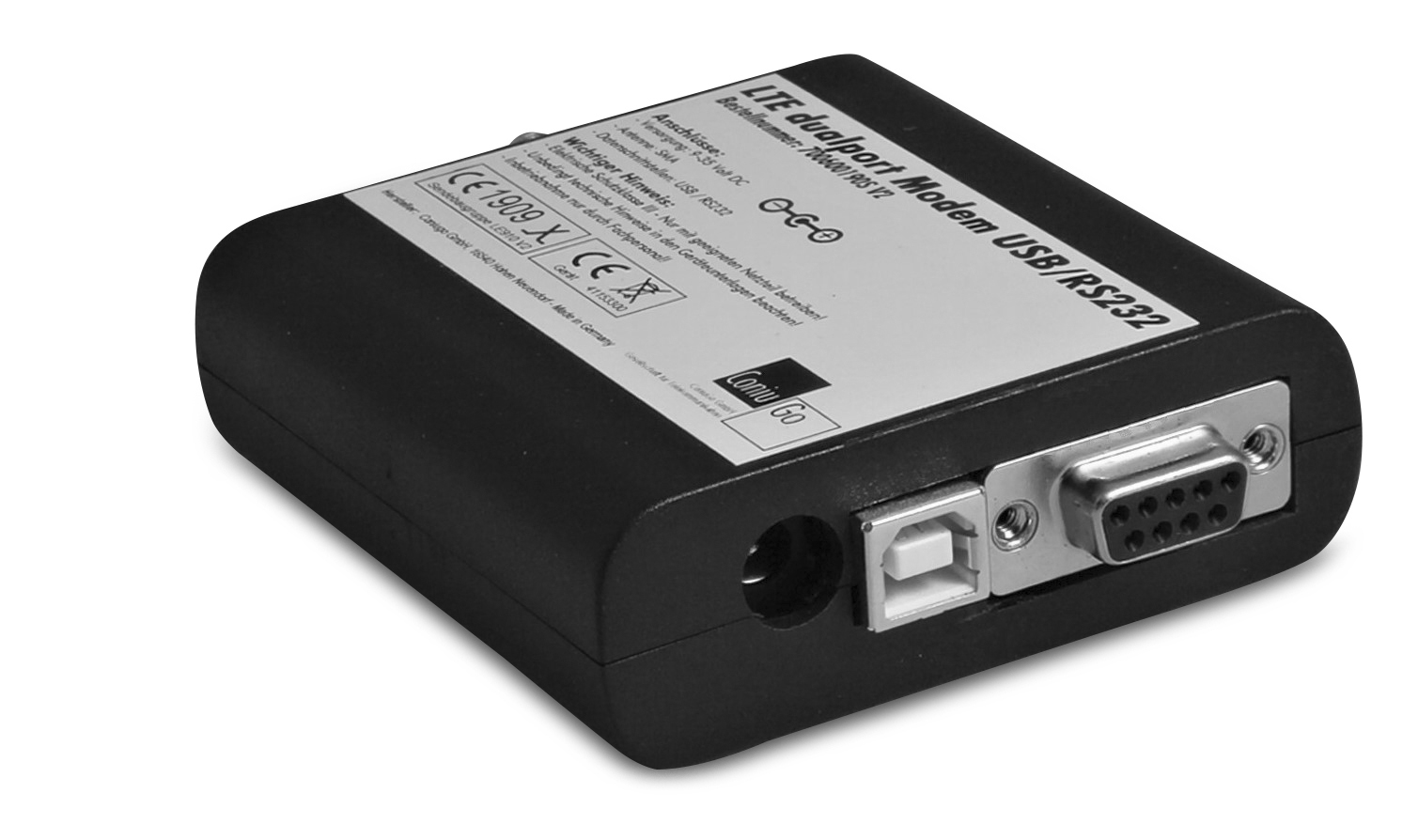 USB-and RS232-interface
Data rate max. uplink 5.76 Mbps (HSUPA), Max. downlink 7.2 Mbps (HSDPA)
Standard housing
Power supply 9-35 V DC
Dimensions 62 x 59 x 20 mm (L x W x H) / 49 g
Antenna plug SMA
LTE Modem RS232 with status leds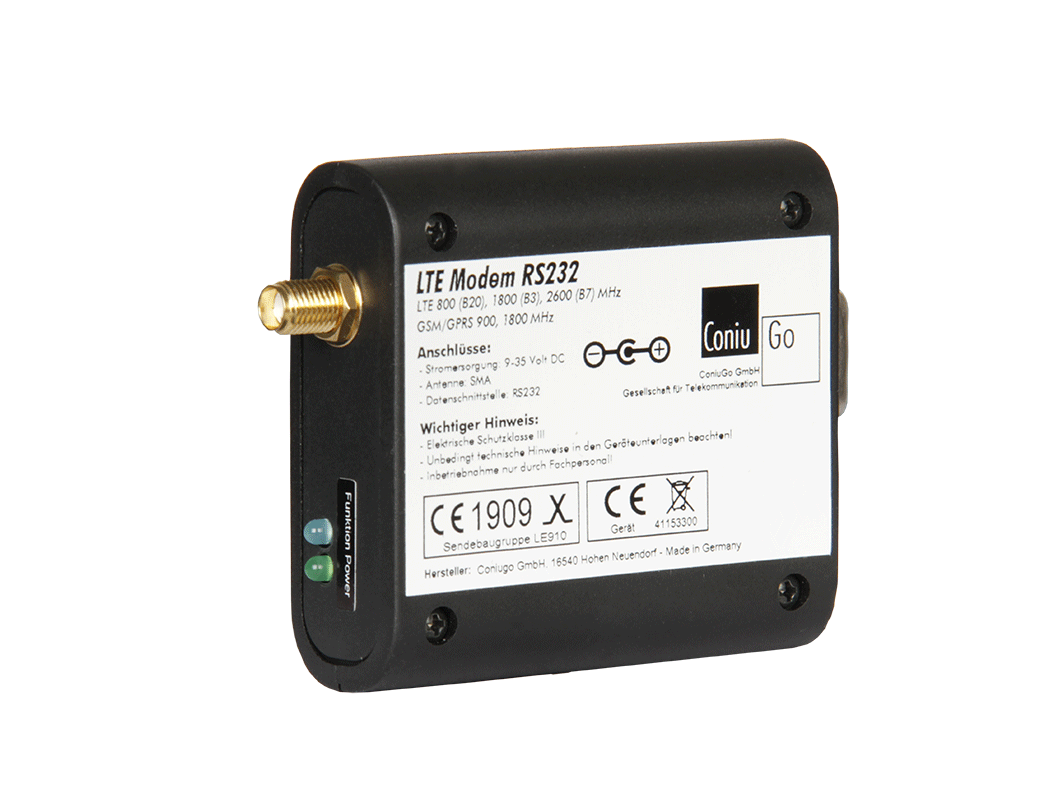 RS232-interface
2 status leds
Data rate max. uplink 5.76 Mbps (HSUPA), Max. downlink 7.2 Mbps (HSDPA)
Standard housing
Power supply 9-35 V DC
Dimensions 62 x 59 x 20 mm (L x W x H) / 49 g
Antenna plug SMA
Accessoires
article name
characteristics
article number
Rod antenna with tilt joint

Indoor use
Tilt joint adjustable
Frequency 790 ~ 870MHz, 1710 ~ 1880 MHz, 2500 ~ 2690 MHz

300303312S
Round Antenna PUK

Indoor and outdoor use
Quadband antenna 850, 900,1800, 1900 MHz
cable lenght 3 m

300303310S
Rod Antenna with Magnetic base

Indoor use
Frequency 824-894 MHz / 1710-1990 Mhz, 880-960 MHz / 1710-1990 MHz, 1920-2170 MHz
cable lenght 3 m

300303316S
Glass attached Antenna

Indoor use
Dualband antenna 900, 1800 MHz
cable lenght 1,5 m

300303304S
Power supply for top-hat rail mounting

Input voltage 230 V DC
Output voltage12 V DC / 20 VA

700100302
LTE directional antenna

Indoor and outdoor use
Frequency LTE 694-960 MHz
cable lenght 5 m

300303321S/5
Main Power Supply 12V

For devices with 12 V DC
1500 mA supply voltage

305307214
Serial Cable

For the communication with a control or a computer
Length approx. 1,8 m

305353101
USB Kabel

For communication between computer and USB modem
Length approx. 1,0 m

305353102
Ethernet Cable

LAN cable for modem connection to a local network
Length approx. 0,5 m

305353103